Community Connections "Family Medicine Tajikistan" Update
Building Peace
Three-week Tajik exchange turns into long-term change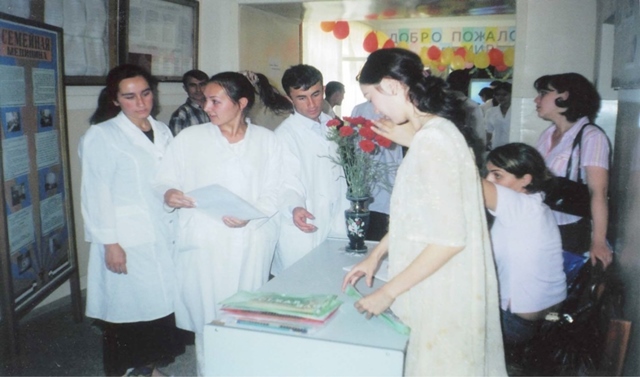 The exchange may have happened more than a year ago, but the transformation and benefits from a 2013 visit by 10 family medicine delegates from Tajikistan just keep growing.
The group visited the U.S. as part of a Community Connections program administered by World Services in an effort to strengthen family medicine in the Central Asian country. During the exchange, delegates experienced the collaboration between Wisconsin family medicine physicians and specialists, saw how to integrate rural issues into medical school curricula and were inspired to begin a volunteer program to increase healthcare access for seniors.
In just one year, those delegates have made some pretty impressive progress. Professor Dilrabo Qodirova, head of the Family Medicine Department at Tajik State Medical University (TSMU) in Dushanbe, for example, has already developed a new study guide, "Family Medicine in the USA," and has shared her learnings with 65 professionals and 2,500 medical students. She's also working now on gathering more information on training family physicians for practice in rural areas.
The exchange focused on practical aspects of medical care and training that delegates said made their work go faster when they returned to Tajikistan.
"During the trip, I realized how clearly and closely the family and specialized doctors communicate. Everyone is doing their job within the framework of their competence," said Dilbar Davlyatova, teaching assistant at Tajik Post Graduate Training Institute for Medical Cadres Dushanbe.
The family doctor is able to communicate with specialists on the phone and online, refer patients to a narrow specialist and easily submit the patient's data to the specialist, she said. "It saves the patient's time and the patient gets expert consultations," added Davlyatova.
The idea for tapping volunteers to assist with medical consultations also stemmed from the exchange when Qodirova participated in the La Crosse YMCA's Sugar Glow Away 3K Walk. Seeing the role of volunteers in organizing the Halloween walk for Coulee Region families, Qodirova piloted a program whereby TSMU students could receive training through volunteering. Nearly 50 volunteers assisted with providing medical consultations for 140 elderly people in Dushanbe and Isfara.
"There is a need to develop volunteerism in Tajikistan," said Qodirova. "We continue to receive positive feedback from the elderly people and population regarding the work of our volunteers. Students, who worked as volunteers were from the different regions and districts of the country and after completion of their studies at the medical university they continue the idea of volunteer activity based on the place of their residence and work."
The exchange is having a ripple effect that stands to benefit millions of people. The benefits aren't just medical, though. As with all World Services' projects, building cultural understanding that leads to greater peace is at the core.
"All with whom I shared information on family medicine in USA were also interested in the lives of U.S. citizens," said Qodirova. "I mentioned my host family in USA and people whom I met there. I have very good memories about [Americans]. I share my impressions with my family, colleagues, friends and neighbors."